Student & Community Support
By supporting collaboration among the DOE, community partners and public advocates, The Fund helps support the whole child, as well as their family, on their academic, social, and emotional journey inside and outside of the classroom.
The DOE's Community Schools Initiative (CSI) is a strategy employed by the City and the DOE to provide all students with equitable educational opportunities. CSI comprises 225 schools that serve primarily low-income students and families. Community Schools emphasize strong academics for students and stabilizing social services that include medical care, mental health counseling, and family supports.
Students in Temporary Housing
Chronic absenteeism (missing 10 percent or more of school days in a single year) is directly correlated to lower academic performance and higher drop-out rates. Particularly at-risk for chronic absenteeism are Students in Temporary Housing (STH), whose situation adds additional obstacles to their attendance. Providing additional supports for STH is one way to help them maintain attendance at school and improve their chances for success academically and in life.
Family & Community Engagement
Building strong schools and strong communities is at the center of the DOE's mission to improve student achievement and prepare every student for success in college, a career, and life. The Fund also values opportunities that empower parents, families, educators, and communities to work in collaborative partnership.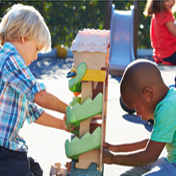 Health Education & Wellness
This essential area of learning teaches young people to take care of their minds, their bodies, and the people around them. Health education and wellness builds a foundation for academic success by teaching all students how to make healthy and informed decisions.